I have had a bit of a one track mind, blog-wise, of late. But I do occasionally stray from the sewing room, and have a few other things to record from time to time.
First off though - thank you for all the kind comments about the Family Reunion dress and the sympathetic and supportive ones about THAT blouse. A suitably disappointed email has been fired off in the direction of Butterick and Co and I will let you know if I get back a suitable response!
And thank you for the suggestions re: The Sewing Bee, but - NOT Flippin' Likely!
(I'd have a heart attack trying to do even the simplest task under time pressure, and as for the middle challenge, my ideas would not be near imaginative enough!)
Meanwhile, these cheery chappies greet me each morning when I open the kitchen blind.
This is the same clump, snapped last year. Nice to see how they've multiplied!
The wall is getting more colourful by the day.
Elsewhere in the garden, the hellebores are blooming away. It's just a shame they don't hold their heads up for us to admire them more!
Miss U-t-B and I headed off to the cinema somewhat apprehensively last Thursday, to see 'The Book Thief'. It's always a risk going to see the film of a book you've loved, and it's also a risk going to see a film you know will make you blub! I was worried the pair of us might cause localized flooding, just when the rain finally seems to have abated!
Fortunately, we both loved the film. Tears were shed and there were a few not-quite-stifled sobs from beside me (I had read the book so was able to steel myself for the hardest bits) but we did enjoy it. I thought the two young actors (Sophie Nelisse and Nico Liersch) were perfect for the roles, as were both Emily Watson and Geoffrey Rush. I know it hasn't had fabulous reviews, but I have seen far worse.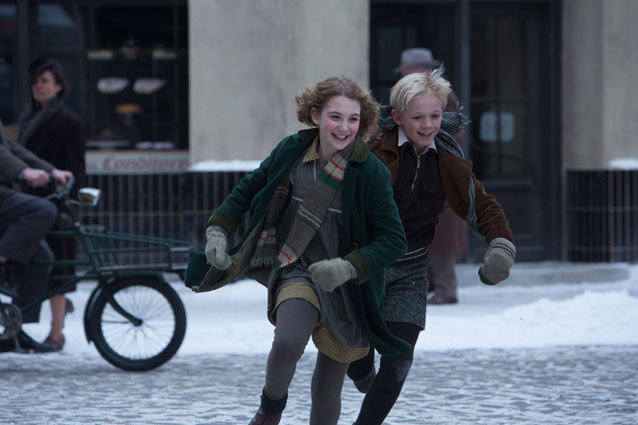 Remember I mentioned there was some good music on Graham Norton's show on Saturday? Here's one I think we'll be hearing lots over the next weeks...
Take a look at this fab book I bought myself last week...
It's oozing with cute and quirky idea - I want to make soooo many of them...
How wonderful would that be as a wedding present?
In the same package came this, which I'm liking so far...
Hope life is full of good things for you too!