Oh dear! I am a forgetful sort!
The month before last, I got tagged by Ada, the very lovely, colourful Vintage Sheet Addict. I racked my brain and came up with eleven facts about myself...
(My! It was hard! I clearly don't know much about myself!)
...and answered the eleven questions Ada had set, but broke off to enjoy a highly cultural evening watch the X-Factor and forgot to do the rest of the challenge.
Then last month I've was tagged again, by Penny of The Hen House, who makes me smile with almost every post she writes (apart from the ones where tops of Christmas trees go missing, and the like). I'm clearly not running fast enough...
So, some days back I was thinking, can I scrape any more 'interesting' facts about myself out of my clearly befuddled brain?
Can I come up with any clever and
sparkling questions to ask, and can I catch up with any bloggy friends who want to play?
Can I finish a post and publish it before once again finding myself distracted by all manner of Christmassy diversions?
Clearly the answer to the latter was a huge NO as it's now many days since I began this. Nonetheless I'll get started
(AGAIN) and see where I get to!
1. I am now a reformed character as far as Saturday and Sunday night television is concerned. I now watch Strictly if I can, rarely watch the X-Factor, and have even (almost) been won over by Downton Abbey (though I'd still rather watch Lark Rise to Candleford, Call the Midwife or Pride and Prejudice).
Yes, of course I mean THAT version.
2. I am a bit of a hoarder, though (quite) a tidy one. There are things I just can't bear to part with, such as my childhood egg cup...
The deer with the killer eyelashes!
...the mug I bought when I went to the seaside (Bournemouth I think) for the first time at the age of about four...
(Funny it never occurred to me that this was probably intended for a boy till now! My sister's was a pretty shade of shell pink!)
and
all sorts of 'silly' bits and pieces
(better not say what - Mr U-t-B will start getting itchy fingers for a big chuck-out...).
3. I once signed up for evening classes in woodwork, in the hope that it would be a brilliant way of meeting young men (I thought it would be cheaper than joining a dating agency, and I'd learn something practical too!) Sadly for my plan, the class was almost entirely made up of women (wonder whether they all had the same idea?) though I did make a carved polar bear, which I rather love (even if Miss U-t-B refuses to believe I made it!)
4. I iron my tea towels.
5. This little autocorrected phone message gave me the most uncontrollable fit of the giggles I've had for months...
6. I'd rather have a bag of American Hard Gums than a bar of chocolate.
7. I do not know how to crochet.
8. This made me smile for ages...
9. If money were no object, I'd buy a shepherd's hut for the garden...
10. Oh.
We don't have a garden large enough to accommodate a shepherd's hut.
So, in my dreams, I would up sticks and buy a pretty Georgian house with a spacious garden in which to place my little hideaway. Something like this would do!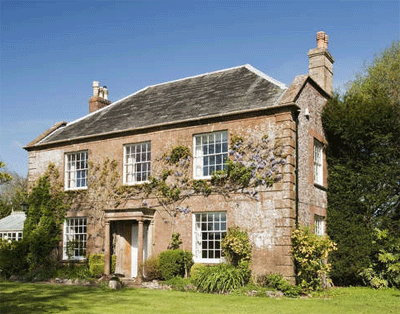 11.

In reality, I am perfectly happy with our late Victorian end-of-terrace house, even if the garden is small.
1.
What do you want Father Christmas to bring you this year ?
A beautifully cold but sunny day with snow on the ground and a nice vin chaud around which to warm my hands. (Oh, and if he thinks I've been REALLY good, this DVD would be great...
2. If you could swap a day in the life of... who would it be?
I think I'd chose to become Penny's new kitten Finn. I'd be super-cute and play all day long with a potato!
3. If you could change your first name, what would you be
called ?
I am completely stumped by this one. Truth be told, even if I could change it, I wouldn't. Well done to my parents for choosing me a name I really like!
4. On a desert Island, what would be your item of luxury?
A pair of cashmere socks for the chilly night-times - I hate to have cold feet!
6. If you could be a character in a book, who would you be ?
I have answered this one before and said Milly-Molly-Mandy, but if she was already taken, I would chose Juliet Ashton in The Guernsey Literary and Potato Peel Pie Society, especially if Dawsey Adams was a Richard Armitage-alike (as requested for the upcoming film on Facebook!)
7. If you were casting a new Jane Eyre film, who would be your Mr Rochester ?
Greg Wise might be nice...
8. What can you simply not eat ?
Tripe! Not that I've ever been offered it again after the once I remember my Mum cooking it. But I think if I saw it in front of me again, it'd give me the heebie-geebies.
9. What is your all time romantic scene in a film ?
In 'The Holiday' when Cameron Diaz drops by to see Jude Law and learns he's a widower with two small daughters. The scene where they are all together in the girls' bedroom tent, chatting and giggling, is (to me) more romantic than many a more overtly romantic scene...
10. What is the most memorable thing a teacher said to you ?
'You make such a lovely 'o' shape with your mouth when you sing, I'm giving you the part of Mary.' (Said by my first year junior teacher. Sadly, the Nativity play got shelved shortly after (I think my lovely teacher was off sick) so I never got to show the world the fabulous o-ness of my singing mouth, and though I have resolutely sung with a nicely shaped mouth ever since, leading roles have been in short supply...)
11. How do you like your eggs in the morning ?!!!
Left in the fridge to await turning into a cake - I'm a muesli girl in the morning.
So, now I'm meant to ask questions and tag people. But I've run out of steam...I think I will have to accept that I am the most hopeless tagee, and really, I should retire now and sit on the benches and watch the games from afar! So please forgive me for not completing the challenge properly (I'll have to get a sick-note next time!)