...is coming up with a suitable title!
And when I can't think of a title, I can't write a post! Hence the reason for the pause.
(Call it excuse no. 42, if you like.)

Anyhow, life has been chugging along!
Leaving me trailing in its wake, it sometimes feels.
But next Wednesday I finish my stint at school, so I'm hoping to be able to catch up and then forge ahead. Well, I like to be optimistic!

I have managed to squ-eeeee-ze a bit of stitching in, and I also had my first grown-up, wannabe stitcher for a bit of private tuition.

After much deliberation, Miss U-t-B and I came up with a name for my new venture and here it is...

I had fun embroidering those letters, even if they do look a bit wonky now they are unevenly stretched in the hoop! The flower's petals are all tiny Liberty scraps and the bee is my special favourite to add onto things!

I even put together a Facebook page to start to advertise my classes. You can find it here. (I'm not ashamed to say that the 'likes' put a smile on my face!)
Miss U-t-B was pretty impressed that I managed that all by myself - not so much because of the vaguely technical side, but because I'm not very brave and putting myself 'out there'. Once I've finished my school teaching, I hope to set some more dates!
I made a second cushion to fiddle with the proportions...
...but prefer the first one, maybe because I love the red 'Claire-Aude' of the garden and the 'Tatum' of the windows so much...
I also had another go at making a patchwork, padded runner for under a sewing machine.
This time I put the little cut-thread bin at the front but kept the integrated pincushion (with its super-strong hidden magnet for keeping hold of stray pins and needles) right next to the machine.
I love the Riley Blake 'Little Red Riding Hood' fabrics by Tasha Noel. I think I might have to buy some more before stocks run out!
In a bold move back to my sewing roots, I did a bit of dressmaking too!
You see I love to wear smocky-tunicky type tops but hadn't seen any nice ones recently in the shops. I'd been looking on account of the fact that the linen blend ones I mostly have had worn through and were no longer wearable!
I bought some Valori Wells 'Wish' voile in the sale at 'Guthrie and Ghani' (that's Lauren from 'The Great British Sewing Bee's shop). It's a lovely soft, fluid fabric and I thought it would be perfect for this Simplicity pattern...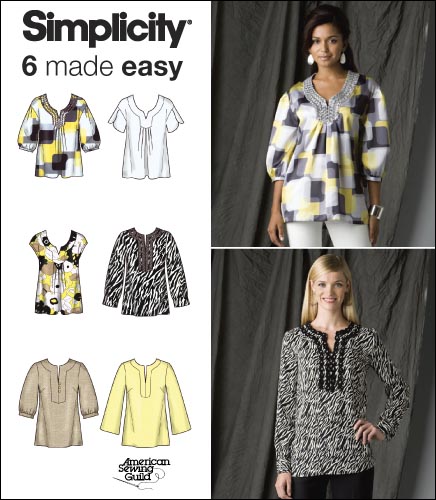 No 2696
I didn't take too long to knock this up, though I was glad I wasn't a complete beginner as some of the instructions were a bit vague.
I made some self-covered buttons and tried to do my neatest top-stitching...
And the most remarkable things are, it fits and I like it!