In a failed attempt at tidying our attic study, I came across a couple of reproduction postcards I got some years back for Mr U-t-B.
Mr U-t-B used to be (haha) a geography teacher (he's been recycled now) and a set of the Ordnance Survey postcards brought out to celebrate the bi-centenary had been appealing because he would like the geographical element, whilst I liked the style of the illustrations.
The beautiful front covers of Ordnance Survey maps of the 1920s and 1930s were largely down to the marketing zeal of Sir Charles Close, who was Director General of the organisation from 1911 to 1922.
He saw that with increased leisure time, and improved modes of transport there was a big market for maps. The Great
War interrupted his efforts to promote OS maps, but after the war he had artists, such as Ellis Martin, Arthur Palmer and John Christopher Temple Willis create inviting front covers to tempt walkers, cyclists and motorists to buy.
Ellis Martin
Ellis Martin was the artist behind the majority of the covers. Prior to World War I he was involved in advertising works for Selfridges, WH Smith and railway station booksellers.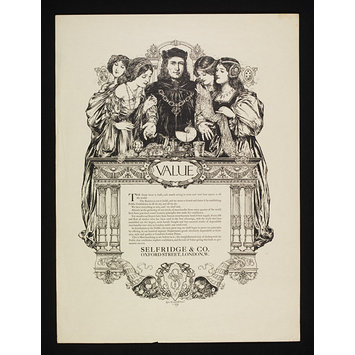 Source V&A Museum
During the war, he spent much of the time in France with the Royal Engineers and the Tank Corps, sketching the landscapes over which soldiers and heavy vehicles would have to pass. When the war ended, he was invited to join the Ordnance Survey, where he stayed until his retirement in 1939. During those twenty years, his art work helped capture the market, with 'Ordnance Survey' becoming a household name and their maps becoming those of choice.
Ellis Martin
Ellis Martin wasn't the only artist who worked for the OS at this time. Arthur Palmer and John Christopher Temple Willis (who later became Director General of the OS) also supplied artwork for map covers.
I love the muted shades of Willis's work...
JCT Willis
JCT Willis

...and the lettering on Palmer's along with their rather dream-like quality...
Arthur Palmer
Arthur Palmer
Arthur Palmer
There are four sets of ten postcards in the series which I obtained very quickly from MapStop.co.uk
If these images have whetted your appetite, you can find out all about the art of map covers in 'Map Cover Art' by John Paddy Browne...
And if you find any old OS maps with these iconic covers when you're out car booting or hunting through charity shops, they are definitely worth snaffling!