I have been hankering after a little spree on some Liberty fabric to make matching dresses for the two babies in the family, but wasn't sure about the pattern that I had. It's been lying in a cupboard in the attic so long and I wasn't sure it was quite what I wanted.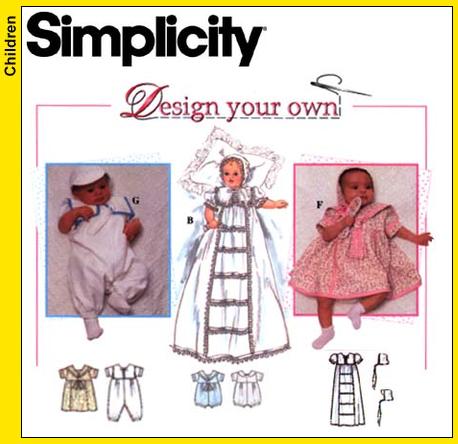 sewing.patternreview.com
So on Monday, I decided to find an old lawn skirt and make it up in that, to see what it turned out like.
Off came the waistband...
...and then it was ironed, the straight grain found and pattern pieces cut. The six-month size was easily cut from this skirt.
First the bodice and then the collar...
...which I decided would be nice with ric-rac edging. I took my time doing this (I even tacked it by hand - not something I often do!) and was pleased with how it turned out.
Next the sleeves, which I also decided to trim with a bit of lace...
Matching lace where the side and front skirt panels meet...
...and then everything stitched together...
Hem and buttonholes to do as yet, so those are my first job today. The pattern is actually nicer than I thought it would be, but now I am dithering over finding something a bit more modern instead. I love the traditional style dresses, but do the young Mums of today, I wonder? I am tempted to go and acquire a copy of 'Ottobre', which has some trendy outfits.
Whilst I dither, I will knit.