If you've just started humming a somewhat irritating tune
a) You ARE a child of the 80s
b) I apologise profusely!
However, it is my sewing that is about to turn Japanese! Look what arrived in the post last Tuesday...
Some beautiful fabric and a Japanese dressmaking book full of patterns for little girls!
I ordered these late on Sunday night, from 'M is for Make', so you can imagine how impressed I was when they popped through the door on Tuesday. The website has some great fabrics, as well as Colette, Anna Maria Horner and 'Oliver + S' patterns and lots of Japanese craft books.
I had really wanted the 'Oliver + S' Family Reunion Dress in the smaller size...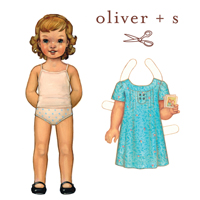 sewing.patternreview.com
...but sadly it was sold out. Then I saw the Japanese pattern books.
Comparing the price of the book, with its

24

patterns, to that of the one (albeit lovely) Oliver + S dress pattern, I realised that I'd have to give the Japanese book a spin - each pattern in the book working out at just 75p!
I love this little top...
.
Actually I'd rather like it scaled up for me!
This dress with its puffy hem is cute...
And I think this little ensemble might be nice in the gorgeous grey fabrics I chose to buy...
M is for Make very handily supplies several pages of key vocabulary translated from Japanese to English to smooth the dressmaker's path. I have my tracing wheel poised and some salvaged-from-an-Ikea-flat-pack tissue paper ready, and I can't wait to have a good block of time with nothing pressing to do, in order to give one of these outfits my full attention. Who knows I might even learn some Japanese as I go along!