When I first saw this pattern, Burda Style's Girl's Bell Skirt #149 I thought it was just the cutest. It is a downloadable pattern which slowed me down in getting round to making it, as I had never before bought an electronic pattern, and I was a little wary!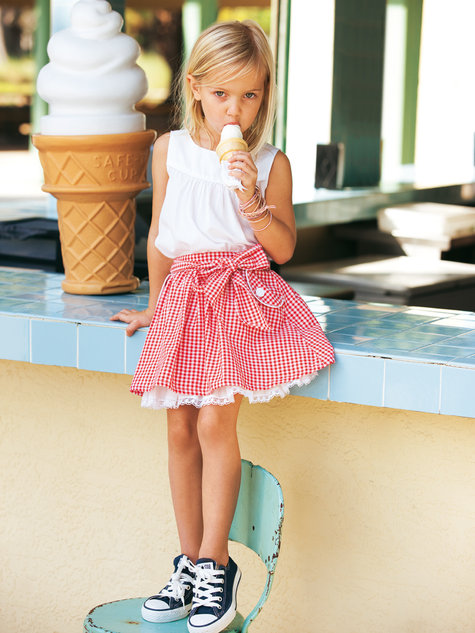 I need not have worried though - the downloading, printing and piecing together of the pattern were a cinch, and now I have the advantage that I can reprint the pattern whenever I want to. This could be the start of a something - there are so many electronic patterns out there, I may never re-surface!
I had a couple of lengths of fabric in my stash to choose from, but as decision making isn't my strong point, I decided to make a pair of skirts. I loved the gingham of the original, but chose two florals - 'Flora' by Lauren and Jessi Jung (Moda) and 'Scattered Roses' from Lecien's Anew collection by Brenda Riddle.
A lack of any suitably light-weight fabric meant I was going to omit the underskirt from the ones I was making. I have now found some fabric that I think is light enough to make a good underskirt and isn't prohibitively expensive, so I may make another skirt, full-blown version, very soon.
The pattern is labelled as 'Advanced'. I think it was fairly straightforward but a couple of aspects required attention to detail and care, or the use of a more difficult technique, which might be the reason for the 'Advanced' rating.
The pocket flaps are part of the detail I liked best, and they were one of the tricky bits. In the pattern, piping is called for, but as I had none and was desperate to get on with the sewing (shops being shut as it was Saturday evening!) I used ric-rac. I love the finish carefully applied ric-rac can give.
Careful pinning, tacking and stitching are needed to ensure a good finish - time-consuming, but not really that hard.
The other difficult part was the insertion of an invisible zip.
I had never used an invisible zip before, and didn't have the correct foot for my machine. I watched a few YouTube clips and then had a go, using the zip foot that came with my machine. The result was okay, and it wasn't too hard, but I decided to buy an invisible zip foot and see if it made a difference.
It was actually trickier to do the job with the correct foot, but the finish is that much better, so I guess it shows that having the right tools is important!
I found just having written instructions a little irksome - the diagrams and pictures you get with traditional dressmaking patterns really do help! I'm not sure I'd want to do a really complex pattern from just written instructions. Luckily, this one wasn't too complex.
So here are the finished skirts...
I need a four year old model, don't I?
The Burda picture of the skirt shows the sash tied at the front, but in the diagram on the pattern, it looks like it should be inserted so it looks best tied at the back. If I were making the pattern again, I would decide whether it was to be back or front tying and insert the sash parts accordingly. Or else cut four sash lengths for total adaptability!
I used a twin needle for the waistband top-stitching...
I love the way the gathers onto the waistband are concentrated towards the centre...
I think this is what gives the skirt its sweet shape.
Would I use another Burda Style downloadable pattern?
or...
or...
But to keep me busy whilst I make a decision, Miss U-t-B (a small 16 year old) would rather like me to make a Bell Skirt to fit her!