'Gardeners' World', 'Dad's Army' and 'The White Horses' debuted on British TVs.
I loved the theme tune by Jacky (but this is not this year's song).
Joseph and the Amazing Technicolour Dreamcoat was first performed as a 15 minute pop cantata at Colet Court School Hammersmith.
London Bridge was sold to an American entrepreneur who re-built it in Arizona, to serve as a tourist attraction.
London Bridge Resort, Arizona. Looks kinda weird to me!
The GPO divided post into first and second class for the first time.
After the removal of the Theatre Censorship Act, the US musical 'Hair' came to the London stage.
The M1 motorway was completed. The traffic jams began.
There were frequent clashes between police and protesters at Anti-Vietnam War demonstrations.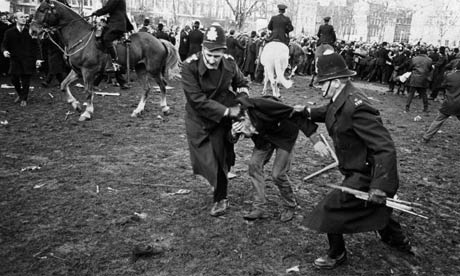 The Race Relations Act was passed.
The Famous Five and The Secret Seven, along with Noddy and Big Ears, mourned the death of their creator, Enid Blyton.
Robert F Kennedy was assassinated.
Nobel Peace Prize winning, Civil Rights Movement leader Martin Luther King Jr was assassinated.
'I say to you today, my friends, so even though we face the difficulties of today and tomorrow, I still have a dream. It is a dream deeply rooted in the American dream.
I have a dream that one day this nation will rise up and live out the true meaning of its creed: 'We hold these truths to be self-evident: that all men are created equal.'
I have a dream that one day on the red hills of Georgia the sons of former slaves and the sons of former slave owners will be able to sit down together at the table of brotherhood.
I have a dream that one day even the state of Mississippi, a state sweltering with the heat of injustice, sweltering with the heat of oppression, will be transformed into an oasis of freedom and justice.
I have a dream that my four little children will one day live in a nation where they will not be judged by the color of their skin but by the content of their character.
I have a dream today.
I have a dream that one day, down in Alabama, with its vicious racists, with its governor having his lips dripping with the words of interposition and nullification; one day right there in Alabama, little black boys and black girls will be able to join hands with little white boys and white girls as sisters and brothers.
I have a dream today.'
Louis Armstrong - What a Wonderful World
Mary Hopkin - Those Were the Days
Nina Simone - Ain't Got No/I Got Life/Do What You Gotta Do
Simon and Garfunkel - Mrs Robinson
And this. Just let it wash over you...
We had moved from Winchmore Hill, leaving behind the house backing onto the canal and (very sadly) Joan and Linda down-the-road, to Oxfordshire. I had started school (January 8th 1968) which I loved.
For Christmas that year, my parents bundled the three of us into the back of the MG Magnette (not literally!) and drove us all the way to a US airbase near Stuttgart in Germany, where one of my Mum's bridesmaids was living with her husband and baby boy. Proper snow, candy canes and 'abroad' for the first time!
It was the most amazing Christmas!
My sister and I got roller-skates and had fun learning to skate in the long corridors of the basement laundry of the flats building; Roderick, the baby, scandalised us children by eating part of a rubber plant; Jenny (our hostess) had the most beautiful Christmas tree; my sister and I each got a sweet baby doll (my sister is cradling hers); and I got the book I have immortalised in this photo 'A Dragon in a Wagon and other strange sights'.
I have a copy of the book (though it's not my original one. I wanted to read it again a few years back, searched high and low on t'internet and finally tracked one down. My first internet purchase I think. I haven't looked back...)
Filled with repetition and rhyme and silliness, it was a perfect book for me to read by myself...
What book from your childhood would you love to read again?