Working with this fabric...
(which is on a red background, even if this looks orange!)
...and being reminded of the dresses my sister and I had in it. They were the same pattern as below (that's me with my knickers on show! Flippin' 'eck, we wore our dresses short in them days!), white dart-shaped bodice and the cheery peeps, lanterns and buggies below. My Mum made us lovely things - thanks!
I'm using a small piece of it to make this...
I am quietly confident that this will not be a 'project from hell' like the scarf.
But that's another favourite thing, because I have now finished the rows with the dreaded '7 stitch wrap' (which turns out to be 'smocking stitch' of a sort)
and am onto the rows with only 'yo' and 'sl1, k2tog, psso' to keep track of!
And last of all for today, this tablecloth, from a local charity shop.
Secretly I actually rejoice when I find one that is damaged, because if it's in good condition I can't bring myself to cut it up.
I'm going to try something a bit alternative with this one.
I'll show it if it works out okay...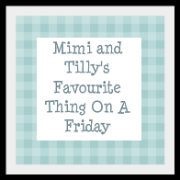 Do hop over and see what favourites others are sharing. There's sherbet dib dabs for a start!