There's a tune on the radio at the moment that has an instant
Colin-Firth-effect on me. You know the effect...
'I'm afraid I have to warn you that I'm experiencing stirrings somewhere in the upper abdominals which are threatening to form themselves into dance moves.'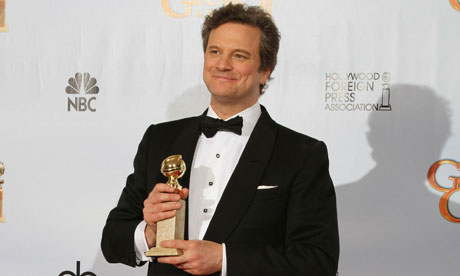 Photo courtesy of The Guardian
Now I
know
the temptation may be to stick with the photo of Mr Firth, but do try to drag yourself away, I think you'll enjoy this...
Summery sounds! I think this will be my track of Summer 2011.
Once I 'YouTubed' Caro Emerald, I found that she was also responsible for this one, which I loved at the end of last summer...
She also has a cool line in videos...
I think I'll be buying this CD!
Work-in-progress Wednesday worked a treat. Although neither of the large project progressed, I did do these...
That's two big Crinoline lady drawstring bags (just need to find suitable ribbon now)...
Seven 'Precious Scraps bookmarks appliqued...
Two notebook slipcovers stitched round, embroidered and stitched to fit, plus one more small drawstring bag...
A good feeling - some of those have been hanging about for ages!
Mr U-t-B had his scan, so hopefully by later this morning we'll know what's to be done to get him back on his feet! Hope it's quick - I do miss him round here...